Early Detection of Illness

Starts with Water Consumption.
On March 20, 2022, John Ryken's site manager noticed his pigs were coughing a lot and mortality was increasing, so he did what he always does: started them on some treatments.
The next week, a team of researchers at Iowa State was reviewing the BarnTalk wireless water meter consumption data and noticed a 30% drop in water consumption over 36 hours starting on March 18th.
That observation opened the door for the potential of using real-time data to help predict and treat animal illness sooner rather than later.
Wireless Water Monitoring

with BarnTalk.
With the BarnTalk mobile app, you can

monitor water flow in real-time.

Alarm calls can be sent via text message, phone call, or push notification.
BarnTalk's wireless water meter

can have alarms set to detect:
No water flow.

A large leak such as a burst pipe.

Sudden decreases and increases in water consumption.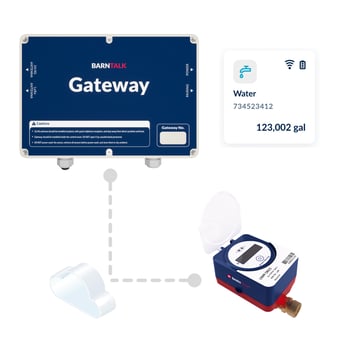 Contact Us Today
Please fill in your information and we'll get in touch with you.